Violent Colorado Women — 2004
This site is copyrighted, supported, and maintained by the Equal Justice Foundation.
---
| EJF Home | Join the EJF | Comments? | Get EJF newsletter | Newsletters |
| DV Home | Abstract | Contents | Authors and Site Map | Tables | Index | Bibliography |
| Chapter 12 — Stories Of Violent Women And Abused Men In Colorado |
| Next — Violent Colorado women-Year 2005 |
| Back — Violent Colorado women-Year 2003 |
---
Stories used here are reproduced under the Fair Use exception of 17 USC § 107 for noncommercial, nonprofit, and educational use.
If you have, or know of a story about abused men that should be posted here please send it, or a link to comments@ejfi.org.
Stories
Mom accused of concocting DV and abduction tale
Female doctor attacks male au pair with knife
Woman arrested after stabbing her boyfriend in Brighton
Glenwood Springs woman held in slaying plot
Pitkin County woman convicted of soliciting hit man to kill former husband
Woman takes boyfriend to hospital after stabbing him in Colorado Springs
Attack on husband linked to malaria drug Lariam
Wounded man dropped off at Colorado Springs hospital by girlfriend
Woman sentenced for role in death of her boyfriend in Colorado Springs
Was Russell Thompson wrongly jailed again as payback by girlfriend and Eagle County D. A.?
Falsely accused dad still mending his life after 15 years of hell
Avon school principal's husband arrested for throwing crayons
Judge orders mediation in restraining order against state representative
---
Mom accused of concocting DV and abduction tale
© 2004 Denver Post
Reproduced under the Fair Use exception of 17 USC § 107 for noncommercial, nonprofit, and educational use.
Wednesday, January 28, 2004, Brighton — A young mother who told police her boyfriend roughed her up and took her baby at knife-point, prompting an Amber Alert, has been charged with making up the story.
Adams County prosecutors have filed a charge of false reporting to authorities against the 17-year-old girl, said Steve Bernard, an Adams County assistant district attorney. The girl is being charged as a juvenile, Bernard said.
Meanwhile, authorities have not filed any charges against 19-year-old Angelo Arellano, the man the young mother accused of attacking her and taking the baby, Bernard said.
The incident began on January 15 when Arellano was visiting the girl. The girl told police he shoved her down and took her 4-month-old son while threatening her with a knife.
Police later arrested Arellano at his house in Denver, where they found the baby unharmed. Arellano is not the boy's father, though his name is on the child's birth certificate.
Bernard said the false-reporting charge alleges that the baby's mother and Arellano had gotten into a fight and that she made up the kidnapping claim.
The charge is a misdemeanor, but Bernard said it is a serious one.
"When someone makes misrepresentations that end up triggering (the Amber Alert) system, it's obviously not right," he said. "By crying wolf, you waste important resources." [Ed. note: To say nothing of the public's credibility!]
---
Female doctor attacks male au pair with knife
March 6, 2004, Colorado Springs — According to the Gazette, Dr. Yvette Burdick, age 44, accused Kenyan au pair Jeremiah Selim Kiprotich of sexually assaulting her 13-year-old daughter in November 2003. She then pulled a 12-inch knife from her doctor's bag and raised it above her head, threatening Kiprotich.
Kiprotich, age 30, told police he struggled with Dr. Burdick for control of the knife, cutting both of his hands.
Dr. Burdick was charged with second-degree assault and menacing. In 2004 she pled guilty to third-degree assault and was given two years probation.
On March 16, 2004, she was granted a permanent restraining order against Kiprotich by a local magistrate.
According to the October 13, 2006, edition of the Colorado Springs Gazette (p. Metro 4) Jeremiah Kiprotich used an Alford plea, in which he maintained his innocence but agreed that prosecutors had enough evidence to convict him of felony sexual assault on a child, as well as a misdemeanor sexual assault charge. Kiprotich was then sentenced by Judge David Shakes of the 4 th Judicial District to 4-years probation on the felony, 5-years intensive supervised probation on the misdemeanor, and to register as a sex offender. The outcome, however, is that he will probably be deported as a felonious sex offender. But in modern day America he can probably stay as an illegal immigrant and be supported on welfare while he appeals his conviction and deportation.
Note to Dr. Burdick: In such situations the proper use of a knife is an underhand slash to the groin area. And finish the bastard off so he can't come back at you or your daughter.
---
Another dead soldier
Monument — Around 9:30 PM, on the Sunday evening of March 14, 2004, Chief Warrant Officer William Howell, age 36, U.S. Army and a Green Beret with 10 th Special Forces at Fort Carson, just three weeks back after a five-month tour in Iraq, had a brief argument about the trash with his wife, Laura Howell, also 36.
CWO Howell had been drinking. The quarrel became physical. He punched her and she punched him according to reports. He accused her of cheating on him. She then called 911 and told them "My husband just hit me, and he's going downstairs to get a gun." When Monument officers arrived a few minutes later he was on the front lawn with a .357 revolver in his hand. Officers ordered him to put down the gun. Instead he shot himself in the head. An officer also shot William Howell in the arm when he raised the gun.
From the time Laura Howell dialed 911, CWO William Howell's life was over. There seems to be no question domestic violence was involved in this incident. Therefore, under current laws and policies he would have been discharged from the Army, lost his security clearance for life, never been able to go near a weapon again, and very likely lost access to his children, among other draconian penalties (see What Happens When 911 Is Dialed?). Given current Army training standards he likely was aware of what would happen after a DV charge was filed against him. In the end he took the easy way out, as so many other men do in these circumstances today.
In an interview given to the Colorado Springs Gazette, and published on May 12, 2004, Laura Howell provides additional details of what may have gone wrong. In CWO Howell's case he had been taking Lariam, an anti-malaria drug while deployed in Iraq. Lariam use was also linked to a series of spousal slayings in 2002 at Fort Bragg, North Carolina by Special Forces troops.
In a minority of users Lariam causes side effects including suicidal thinking, aggression, delusions, paranoia, and irrational panic, among others. It is well established that for some individuals such effects last many years after the drug is last used. Lariam's psychological and physiological effects are such that pilots are not allowed to fly while taking the drug. Also, in the mid-1990's the recommended dosage was increased from one tablet every two weeks to one tablet per week. Doubling the dosage undoubtedly increased the side effects.
These side effects have been known for over a decade and the use of caffeine and alcohol exacerbate these effects. CWO Howell had a blood alcohol level of 0.137 at the time of death.
In the same May 12, 2004, story in the Gazette (p. A13) about CWO Howell, the experience of a female soldier from Fort Carson who took Lariam in Iraq is described (see details below).
"At home near Fort Carson, [after several glasses of wine] she hallucinated that someone was trying to stomp her to death. Fearing her husband would do the same, she attacked him and bit him before running to a neighbor's home and banging on windows.
In addition to her aggression, psychotic reactions and paranoia, she also experienced unexplained weight loss, ringing ears [tinninitis], dizziness, tremors, chest pain, weakness, diarrhea, and abdominal pain. All are listed as possible side effects of Lariam, also called mefloquine."
Other severe side effects of Lariam are not uncommon and Sheldon's story is another fairly typical example. If you've taken Lariam at some point and are suffering from mental aberrations you may want to contact Lariam Action USA.
In March 2004 the World Health Organization announced it is now recommending the use of Artekin (dihydroarte-misinin-piperaquine), a derivative of artemisinin derived from the herb Artemisia, as the antimalaria drug of choice. In the interim, doxycycline has proven as effective as Lariam, though it must be taken daily rather than weekly or semi-weekly.
It seems quite clear that use of the drug Lariam has been involved in what are termed domestic violence homicides and assaults. It is equally clear that such events are adverse drug reactions that can be avoided by the use of drugs other than Lariam as malarial prophylactics.
We don't need more dead soldiers and their partners because an easily-replaced drug continues to be used.
The Equal Justice Foundation has for many years advocated that society should provide medical treatment for medical problems rather than treating incidents such as these as domestic violence and destroying families, careers, and lives.
---
Woman arrested after stabbing her boyfriend in Brighton
© 2004, Mike Patty, Rocky Mountain News
Reproduced under the Fair Use exception of 17 USC § 107 for noncommercial, nonprofit, and educational use.
March 15, 2004 — Brighton police on Sunday arrested a 38-year-old woman suspected of stabbing her boyfriend during a domestic dispute.
Sgt. J.P. Bradley said Cordelia Deborah Martinez was located after an all-day search and was taken into custody.
Bradley said police were called to the 100 block of North Ninth Avenue about 8:33 AM and found a 38-year-old man who had been stabbed.
The man told police he ran next door for help after Ms. Martinez stabbed him several times. When police arrived the victim reported that Deborah Martinez was still next door in his residence, armed with a knife.
Officers searched the residence but did not locate the suspect.
The man, who wasn't identified, was taken by ambulance toward Platte Valley Medical Center, but on the way to the hospital the ambulance collided with another vehicle.
No one was injured in the accident, but because of the time delay, the victim was airlifted to an undisclosed hospital, where he was in serious but stable condition.
---
Glenwood Springs woman held in slaying plot
Portions excerpted from the Glenwood Springs Post Independent
According to the Friday, April 9, 2004, Denver Post (p. 4B) a Glenwood Springs woman was arrested Thursday by the FBI, with assistance from Denver and Aurora police, in connection with a murder-for-hire plot, the FBI announced in a statement. She was jailed without bond on a U.S. marshal's hold.
The FBI report stated that last month Ms. Bergman attempted to hire an undercover police officer to kill her ex-husband, John La Couture, the father of her child.
Gwen Bergman, 46, was jailed in Denver on suspicion of facilitation of murder for hire after an investigation by the bureau's violent-crimes squad. She was arrested about 2:30 PM Thursday after walking out of a Denver hotel room where she had just paid the balance of a $30,000 fee to an undercover police officer she believed would kill her ex-husband, according to the arrest affidavit. Gwen Bergman's mother, a retired teacher, was at the meeting in the hotel but was not arrested.
Bergman first tried to set up the scheme on March 24, 2004, by calling Jerry Eden, owner and operator of Armed Protective Services in Miami Beach, Florida. Eden described her as unstable after she asked him to arrange the killing of her ex-husband.
"If she was a friend of mine or family member I would ask her to get psychiatric help," said Eden, the company's operations director. "I think she watched too many television shows." Eden said Ms. Bergman found his company on the Internet and called him March 24, 2004, to hire someone to protect her 6-year-old son. She claimed John LaCouture, the boy's father, had threatened to kill him.
Eden set her up with ex-Denver police officer Peter Adams for security. The two met at a hotel in Golden. Bergman then asked Adams to drive her to Aspen, Colo., to show her where (her ex-husband) lived. During the drive, Bergman asked Adams if she could make her ex-husband "go away." Adams told Bergman that he would not do anything illegal.
Later, Ms. Bergman asked Eden if he could "eliminate the problem." Eden told her he'd talk to his associates and see how much the hit would cost. Eden then contacted the Pitkin County Sheriff's Office.
That call by Eden, placed on March 28 th , led to the FBI opening an investigation into the case, and almost all subsequent phone calls were recorded by FBI agents in Miami.
The next time Ms. Bergman called Eden he told her it would cost $30,000 to have her ex-husband killed, but she first must send him a $1,000 U.S. Postal Service money order. She agreed to the price and she told him she'd have to take out a loan on her mother's house.
Eden told her she should travel to Biloxi, Mississippi, then claim they lost the money there so authorities wouldn't trace it to the hit.
On March 30, Gwen Bergman called Eden and said the money would be sent. Eden asked Ms. Bergman several times throughout the negotiations if she was sure she wanted to have her ex-husband killed. Each time she said yes.
Eden next asked Bergman to put her ex-husband's address, picture and $29,000 in cash in a package to give to the hit man.
On April 1, 2004, Eden received a $1,000 U.S. Postal money order from Bergman in a U.S. Postal Service Express Mail package. The package, which was opened by the FBI, was postmarked on March 30, 2004, from Glenwood Springs.
Bergman called Eden, who told her he had received the $1,000 money order and the hit "is a go." She again affirmed that she wanted the hit to happen and that she was "definitely afraid of him."
On April 5, an undercover Aurora police officer — who was pretending to be the hit man — called Bergman on her cell phone and arranged a meeting with her.
On April 8, the undercover officer met Bergman at the Quality Inn near the Peoria Street exit of Interstate 70 in Denver.
The officer asked if she had the package; she said she did. At the conclusion of the meeting, (the undercover officer) told Bergman that he would call her cell phone and let it ring once to indicate that he had finished the job.
"Let's make it look like a drug deal...If it's easy, let him suffer; if not do it quick...He's an abuser and has been since the pregnancy," she reportedly said.
Ms. Bergman appeared in federal court April 9, 2004, on a charge of use of mail and an interstate commerce facility in the commission of murder for hire. She also faces a state charge of solicitation of murder for hire.
According to the Rocky Mountain News (April 9, 2004) a federal arrest warrant had previously been issued for Ms. Bergman in October 2001. That warrant was in connection with the abduction of her then 3-year-old son from Glenwood Springs, according to the National Center for Missing and Exploited Children. Details of the warrant and the child's recovery were unavailable but the child is currently living with his father. Ms. Bergman reportedly also kidnapped her son again in February 2004.
Thursday's arrest was the second time Bergman paid someone to kill her ex-husband, John LaCouture, of Aspen, according to the Rocky Mountain News on Saturday, April 10, 2004 (p. 6A) and court records.
She reportedly mailed $50,000 to a man she never met to kill LaCouture. He took the money and moved to Georgia, where he bought a car and trailer but never tried to fulfill the contract.
Pitkin County woman convicted of soliciting hit man to kill former husband
May 10, 2008 (AP) — A Pitkin County woman was found guilty of using her mother's retirement fund to solicit a hit man online to kill her ex-husband.
Gwen Bergman faces up to 20 years in prison for the scheme that was foiled after one of the two men she tried to hire turned out to be a former Denver police officer who alerted authorities in 2004.
Bergman was found guilty Friday after a four-day bench trial presided by U.S. District Judge Walker Miller. Bergman was offering $30,000 for the hit on her former husband. She had been tried and convicted in 2006 but her conviction was overturned on appeal and she was retried.
Police say the [now] 52-year-old woman hired a hit man once before but the man made off with the $50,000 she gave him.
Judge Miller says he was convinced Bergman wanted her ex-husband dead.
Bergman was charged with using interstate commerce, wire transfers, and the mail to commit murder for hire and conspiracy to commit murder for hire.
In a bizarre twist in July 2008 her attorney, Howard O. Kieffer, proved to be unlicensed to practice law and a convicted felon to boot, calling into question whether she was competently represented at trial. Gwen Bergman will be granted a third trial as a result. However, there seems little doubt as to her guilt.
On November 26, 2008, U.S. District Judge Walker D. Miller declined to take into account the fact that Ms. Bergman was represented by a fake lawyer during her murder-for-hire trial. While acknowledging the potential harm to her case Judge Miller stated "I saw nothing where the representation was so deficient that I would question the ultimate result." Thus, her conviction and sentence were left undisturbed by the court.
---
Woman takes boyfriend to hospital after stabbing him in Colorado Springs
Sunday, May 23, 2004 — Colorado Springs police arrested Sophia Sanchez, 18, on suspicion of felony first-degree assault (Colorado Springs Gazette, p. Metro 3). Apparently Ms. Sanchez stabbed her 20-year-old boyfriend in the back during an argument at a Subway sandwich shop on Cheyenne Meadows Road on Friday night, May 21 st .
According to police, after stabbing her boyfriend, Ms. Sanchez then drove him to Memorial Hospital. Personnel at the hospital then alerted the police that they had a stabbing victim, leading to Ms. Sanchez's arrest.
---
Attack on husband linked to malaria drug Lariam
© 2004 Abstracted from article by Eileen Kelley, Denver Post
Note: The Equal Justice Foundation has repeatedly stated that a great deal of domestic violence is linked to medial problems and that we should fix the problem, not the blame.
Friday, June 11, 2004, Fort Carson — Spec. Heather Stanbro finds herself standing in rooms with no idea how she got there. She shakes uncontrollably and has trouble walking without staggering. She recently bit and punched her husband in what she calls a psychotic episode.
The 25-year-old soldier blames her medical problems on the anti-malaria drug Lariam that she was forced to take weekly last year while serving as a medic in Iraq.
Stanbro said a military medical specialist recently told her that she is suffering from brain-stem damage, with Lariam being the probable cause for at least her balance problems.
Two Fort Carson soldiers will be part of a new U.S. Navy study into the drugs and chemical exposures of several hundred servicemen and women who have complained of balance and vision problems, a Navy doctor told The Denver Post.
The new Navy study, prompted by 11 recent Iraq and Afghanistan returnees with balance problems, will take another look at several hundred service members earlier seen for similar problems.
An epidemiologist and captain for the Navy, Dr. Dean Bailey will be leading the new investigation to see if Lariam has caused the problems.
"There are quite a few things which can do this and, be honest, we are looking at all of them," Bailey said. "... There are several hundred patients, and we are trying to find out what the common factors and exposures are."
Another study was announced in March by the Department of Defense to investigate the effects of Lariam and other anti-malaria drugs.
The drug mefloquine was created by the military and is now manufactured under the brand name Lariam by Roche Pharmaceuticals. According to its warning label, Lariam can cause psychiatric symptoms ranging from anxiety, paranoia and depression to hallucinations and psychotic behavior.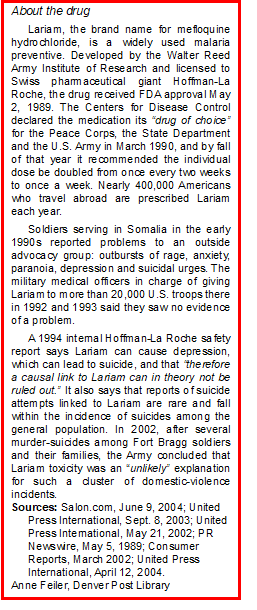 "On occasions, these symptoms have been reported to continue long after mefloquine has been stopped," the warning on Roche's web site says.
Department of Defense records indicate that between Oct. 1, 2002, and Sept. 30, 2003, the department bought 4,153,000 doses of mefloquine and issued 49,206 mefloquine prescriptions to 44,634 individuals.
But the department has decided that Iraq's mosquito problem is not so severe that the widespread distribution of the drug is needed.
"Based on the revised risk assessment, anti-malarial medications are not expected to be required next mosquito seasons in most parts of Iraq," the department said Thursday in a written answer to a question from The Post.
Heather Stanbro said she probably took 32 pills before she was medically evacuated from Iraq after being injured in a mortar attack July 3, 2003.
Her condition at home continued to worsen. A March, 2004, incident was the clearest sign that something was wrong.
"I had a psychotic episode; I cannot think of another way to word it nicely," she said.
After having two or three glasses of wine at a friend's house, she vaguely recalls lashing out at her husband, Jason, believing that he was trying to kill her and that someone's combat boot was crushing her throat.
"I was talking gibberish and started crying and screaming bloody murder at the top of my lungs, and he went to hug me and I beat him away," she said. "He grabbed my wrist to calm me down, and I bit his hand. I guess I felt like I had to escape."
The next morning, after a night in the emergency room, she was covered in bruises along her right side [Ed. note: The Equal Justice Foundation has encountered numerous cases where a husband or boyfriend has attempted to help or restrain a violent woman and the resultant marks or bruises are then used as evidence against him and lead to the man's arrest.]
Last week, U. S. Senator Dianne Feinstein, D-California, released letters to Defense Secretary Donald Rumsfeld and Veterans Affairs Secretary Anthony Principi urging the Pentagon to come up with a plan that would allow service members to report side effects of the drug without retribution.
Doctors in California say they are concerned about the well-being of service members. They say they intend to help them to overcome their physical problems.
However, Spec. Heather Stanbro appears to be on her way out of the service. "The Army finds me unfit for duty with PTSD (post traumatic stress disorder), so how many jobs are going to (find) me fit, especially with the Lariam damage?"
She says the Army has offered her a discharge and $20,000 severance for her injuries, but no monthly disability pay.
"I got screwed...Everything is all jumbled up. There are so many things that have happened in not even a year," she said. "It's frustrating. I am 25 years old and I' m happily married, and then I go off to war to fight for the freedom of another nation, and this is the thanks I get."
Eileen Kelley of the Denver Post can be reached at 719-667-0162 or coloradokell65@aol.com
---
Wounded man dropped off at Colorado Springs hospital by girlfriend
According to the Sunday, June 27, 2004, edition of the Colorado Springs Gazette (p. Metro2) police are looking for a woman who dropped off her boyfriend on Saturday at Memorial Hospital with a gunshot wound and then disappeared.
The woman told hospital personnel her boyfriend had come to her house about noon on Saturday with a gunshot wound to the jaw. But she claimed not to have any knowledge of how it happened.
On investigation, police learned the woman was involved in the shooting, and are seeking her for questioning. The also discovered that the truck she drove to the hospital had been stolen in another city.
The boyfriend underwent surgery Saturday evening. No further details were provided, which is typical when a man is the victim.
---
Woman sentenced for role in death of her boyfriend in Colorado Springs
Abstracted from an article by Dennis Huspeni in the June 16, 2006, Colorado Springs Gazette (p. Metro 3)
On September 5, 2004, Gary Lee Hill got into a fight with Amanda Padilla, 19, over a missing purse during a party at Hill's Potter Circle house in Colorado Springs. Ms. Padilla later admitted that she punched him before he got a rifle and ordered her and her friend, Alessandra Ash, out of the house.
The women returned with Ms. Padilla's boyfriend, John Knott, and Ms. Ash's boyfriend, Anthony Padilla. The four went into Hill's basement room, where he was asleep, and Amanda Padilla punched him again — this time using brass knuckles. That punch opened a gash in Hill's head and led to Hill getting a high-powered rifle, which he fired at the car John Knott was in outside Hill's house. Knott died of a gunshot wound to the back.
Gary Hill was acquitted in 2005 of murder charges after jurors found the shooting fell under the state's "make my day" defense, which allows residents to use deadly force against home intruders.
The woman who "put into motion" the fighting that led to the death of John Knott pled guilty June 15, 2006, to menacing and assault as part of a plea agreement.
Amanda Padilla, 19, admitted to District Judge Robert Lowery that she used brass knuckles to beat Gary Lee Hill while he was asleep in his home in 2004.
Ms. Padilla pled guilty to felony menacing and misdemeanor assault. As part of the agreement, she received a 90-day work-release sentence, a deferred sentence, and four years of probation. On the assault charge, Lowery sentenced her to 60 days of work release, to be served at the same time as the 90-day sentence, 200 hours of community service and probation. Amanda Padilla had no prior criminal charges.
Judge Lowery, who presided over Gary Hill's trial last year, told Amanda Padilla: "There's no question in this court's mind that you put into motion all the events that led to the death of John Knott."
Anthony Padilla, 21, pled guilty to felony menacing as part of a plea agreement in May 2006. He was sentenced to 30 days in jail, two years of probation, and 100 hours of community service. Apparently no charges were filed against Alessandra Ash.
Dennis Huspeni can be reached at (719) 636-0110 or dennis.huspeni@gazette.com
---
Was Russell Thompson wrongly jailed again as payback by girlfriend and Eagle County D. A.?
© 2004 Speakout!
Reproduced under the Fair Use exception of 17 USC § 107 for noncommercial, nonprofit, and educational use.
September 19, 2004, Eagle — The ongoing saga of Russell Thompson, the El Jebel man accused of manslaughter in the death of his friend, Timothy (Chico) Destromp, continues with a forced postponement of his September 23rd re-trial.
Thompson, who, acting as his own attorney, convinced a jury last year that he was not guilty of second degree murder, was found guilty of manslaughter after a former Deputy District Attorney interrupted his closing argument 11 times. Thompson, who appeared to be winning the entire trial, called her an unflattering name that the jury heard, and the jury came back with the lesser conviction.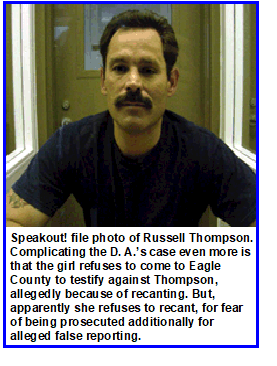 However, a short time after the conviction, District Judge Richard Hart set it aside and called for a new trial, saying that the District Attorney's office acted improperly.
Thompson cannot be tried for the second degree charge again, due to the double jeopardy clause in the Constitution. And, with a new Deputy District Attorney assigned to the case, he was about to face that trial, until his live-in girl friend, Lisa Ann Milloy, whom he met in jail, alleged that Thompson struck her recently at their residence in Colorado Springs. He alleges that he loves her, but that she allegedly drinks too much, and that he had to break up with her to prepare for the upcoming trial date.
Thompson said that Milloy made up that story, in order to get back at him for breaking up with her. He may have an opportunity to prove that soon.
Speakout! has obtained a copy of a letter from his employer, claiming that Thompson could not have struck his girl friend at the time she claims at their home, because he (Thompson) was on a job site elsewhere. The boss claims to be at his own home at that time, which happens to be an apartment next door to Thompson's, "less than 100 feet" away.
To complicate the D. A.'s case even more is that Lisa Ann Milloy refuses to come to Eagle County to testify against Thompson, allegedly because of recanting. But, apparently she refuses to recant, for fear of being prosecuted additionally for false reporting.
Additionally, Milloy apparently doesn't want to appear in Eagle County to testify either way, because, according to Thompson, there is a warrant out for her arrest in Eagle and Garfield Counties for other issues.
On September 28 th Milloy fax-filed with the court a written statement saying, "Let it be known, Russell Thompson has been the unrecognized victim of my abuse to him." Milloy stated that she was "under the influence of alcohol," and "full of self-pity, distress and desperate."
Lisa Ann Milloy wrote, "I should be the considered the abuser. Verbal and mental abuse is what I've put Russell Thompson through these last 10 months. Russ took more than anyone should be objected [sic], ever! As I look back, honestly, he was defending himself and his life...Russell Thompson is the best man I have ever known. He does have three years sobriety...I know Russ did not commit the crime in which he is being charges with...This man, Russell Thompson, is in no way capable of such an act. He has been there for everyone, but himself, giving everyone his help and support, no matter what, unconditionally."
Thompson also told Speakout! that he had heard an answering machine statement from the District Attorney's office warning Ms. Milloy that if she recanted against Thompson, she would be charged with false reporting. It would appear that the district attorney's office is more concerned with getting Thompson, than getting to the truth! This must stop now!
Judge Hart then reinstated an approximate $70,000 bond and released Thompson from the Eagle County jail.
---
Falsely accused dad still mending his life after 15 years of hell
by Mike McPhee, Denver Post
Reproduced under the Fair Use exception of 17 USC § 107 for noncommercial, nonprofit, and educational use.
Monday, September 20, 2004 — An Arapahoe County jury recently found Children's Hospital and a physician's assistant guilty of outrageous conduct and invasion of privacy for falsely accusing a man on national television of sexually molesting his daughter.
The father and his daughter have asked for $1.25 million in damages. Judge J. Mark Hannen is expected to rule soon on the damages.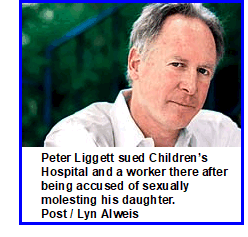 The father, Peter Liggett, said his life turned into a nightmare 15 years ago when he filed for divorce. According to court documents, his wife became so enraged during their bitter divorce battle that she began accusing him of molesting their daughter, who was 2 at the time.
Liggett adamantly denied the accusations as health officials began examining the daughter.
No evidence of abuse was found, but the wife persisted in her accusations, according to Liggett's attorney, Jeff Pagliuca.
Just the weight of the accusations was enough to tip Liggett's world upside down. He lost his roofing company, his home, his family and nearly his mind, he said.
"It was the most difficult thing I've ever been through," Liggett said.
Eventually two judges, acting separately, ruled there were no grounds for the accusations and ordered the wife to stop.
But even after the couple was divorced, the mother continued to accuse Liggett. In October 1991, she took her daughter to Children's Hospital, where pediatric physician's assistant Donna Nelligan examined the girl's genital area twice, according to court documents.
Nelligan concluded that the girl's vaginal condition had undergone changes from the previous year so she reported the findings to social services, according to court documents.
Finally, Arapahoe County Judge Michael Bieda ruled that the charges were without merit and that everyone had suffered enough.
He wrote a 19-page opinion dismissing all investigations, prohibiting further examinations of the girl and gagging everyone from talking with the media, Pagliuca said.
A few years later, CNN began interviewing families in which children had been used as pawns in family wars. The network set up cameras in the Children's Hospital emergency room, then interviewed the mother, Nelligan and others.
In 1996, CNN broadcast nationally a show titled "Parental Alienation Syndrome," examining families in which one spouse persuades the child to turn against the other spouse, sometimes even fabricating accounts of sexual abuse.
On air, Nelligan told the interviewer that she had found evidence of "inappropriate sexual contact" in the Liggett's daughter's vagina.
Liggett, nearly penniless and alone, became enraged.
"I asked more than 20 lawyers to take my case, but no one would touch it," he said, saying they refused because of CNN's financial strength to defend itself and because of Children's Hospital's good reputation.
So in 1997, he sued CNN and the hospital without using a lawyer. For three years he fought gallantly, but feebly, until attorney Joyce Seelen agreed to take his case. She managed to negotiate a financial settlement with CNN before she retired and her former partner, Pagliuca, picked up her cases.
The jury returned a guilty verdict against Nelligan and the hospital for conspiracy, negligence and outrageous conduct, Pagliuca said.
Defense attorney Alan Schuchman said the defendants would not comment.
Liggett has since patched his life back together.
He was awarded custody of his daughter but now shares parenting with his ex-wife. After undergoing surgery to replace both of his hips, he recently started a residential real estate brokerage business.
"I don't know whether I should hide in the corner or stand on a mountain and shout about what happened to me," Liggett said.
Staff writer Mike McPhee can be reached at 303-820-1409 or mmcphee@denverpost.com.
---
Avon school principal's husband arrested for throwing crayons
Abstracted from an article in the October 10, 2004, issue of Speakout!
According to a Town of Avon police report, Kimberly Walter, the principal of Meadow Mountain Elementary School, dialed 911 on October 4 th and hung up. However, the police dispatcher sent an Avon cop to her home where she told Officer Jonathan Lovins that she and her husband, Richard, were having an argument about finances. According to Lovins' report, they "get into arguments about once a month."
According to the school district, Kimberly Walter earns approximately $70,938 annually, plus $12,059 in annual benefits. Plus, she recently received a check for approximately $9,000 from the school district's recent additional cost of living increase.
"Kimberly said the arguments sometimes get heated like this, but she just picks up the phone as if she is going to call 911, and that usually calms Richard down and ends the argument," Lovins wrote.
The report continued: "Kimberly said there was no hitting or pushing, but Richard did throw a box of crayons across the room."
The thrown crayons resulted in "minor crayon marks" about "5 to 6 inches above the table," according to Lovins' report.
Lovins then walked Richard Francis outside the home and cuffed him before taking him to the Eagle County jail.
"Kimberly was upset that I arrested Richard," Lovins wrote. "Kimberly told me that she would now never call 911, unless she was getting the crap beat out of her."
Gee, isn't this what Speakout! has been preaching for quite a while now — too bad certain ignorant liberal public-school types refuse to learn conservative lessons. Now people are going to jail for throwing crayons!
---
Judge orders mediation in restraining order against state representative
© 2004 by Jim Kehl, Aurora Daily Sun & Sentinel
December 9, 2004 — On December 1 st a county judge extended a temporary civil protection order against state Rep. Debbie Stafford until she and the 24-year-old woman who requested the order complete mediation.
Crystal Newton filed the protection order against Stafford October 21 in Arapahoe County Court, claiming Stafford ordered a 37-year-old campaign worker to "stalk and harass" her during Stafford's re-election campaign.
Stafford has denied she told Thomas Debaillon, the campaign volunteer, to stalk Ms. Newton.
Stafford is the grandmother of Newton's 3-year-old daughter. Ms. Newton was the common-law wife of Stafford's son, Matthew Garcia.
Newton, Garcia, and Stafford are also involved in a complicated custody battle of the girl, which has escalated to a point that Aurora police have assigned a sergeant to accompany officers who respond to disputes involving the family.
Ms. Newton sought the protection order after Aurora police responded October 21, 2004, to a gas station at Tower Road and East Hampden Avenue to settle a dispute between Newton and Debaillon.
Officers issued tickets to Ms. Newton for obscene language and to Debaillon for harassment. Both are fighting their tickets in Aurora municipal court.
The judge's order for mediation at the December 1 st hearing came at the request of Stafford's lawyer, who suggested a "cooling off" period.
The next court hearing over this order was scheduled for January 6, 2005.
---
| EJF Home | Join the EJF | Comments? | Get EJF newsletter | Newsletters |
| DV Home | Abstract | Contents | Authors and Site Map | Tables | Index | Bibliography |
| Chapter 12 — Stories Of Violent Women And Abused Men In Colorado |
| Next — Violent Colorado women-Year 2005 |
| Back — Violent Colorado women-Year 2003 |
---
This site is supported and maintained by the Equal Justice Foundation.