Violent Colorado Women — 2008
This site is copyrighted, supported, and maintained by the Equal Justice Foundation.
---
| EJF Home | Join the EJF | Comments? | Get EJF newsletter | Newsletters |
| DV Home | Abstract | Contents | Authors and Site Map | Tables | Index | Bibliography |
| Chapter 12 — Stories Of Violent Women And Abused Men In Colorado |
| Next — Violent Colorado women-Year 2009 |
| Back — Violent Colorado women-Year 2007 |
---
Stories used here are reproduced under the Fair Use exception of 17 USC § 107 for noncommercial, nonprofit, and educational use.
If you have, or know of a story about abused men that should be posted here please send it, or a link to comments@ejfi.org.
Stories
Colorado Springs woman stabs boyfriend in neck
Woman repeatedly stabs man while living with him in Denver and Loveland
Golden woman runs down boyfriend and his dog
Rebecca McKenzie gets 14 years for running down boyfriend and his dog
Colorado Springs real estate agent arrested in $17,000 vandalism
Racist rumors target local teenager and his family
Haddad gets probation in plea bargain
Colorado Springs police arrest woman after she stabs boyfriend in argument over cigarettes
Aurora cop shoots armed woman after she violates restraining order
Jefferson County sheriff deputy poisoned with fox glove by his wife
Denver wife accused of telling airline her husband had bomb
Colorado Springs woman kicks cop who tried to stop fight with her boyfriend
Woman shoots her husband in Arapahoe County claiming he begged her to do it
Woman held under suspicion of trying to hire hit man in Greeley
Fountain woman first has husband arrested for domestic violence then sues sheriff when he dies of a heart attack in jail
Chronology of events from sheriff's reports
After having him arrested Howard's wife files suit against the sheriff
Man answers woman's ad on Craigslist, is beaten, kidnapped, and left for dead in a snowdrift
---
Colorado Springs woman stabs boyfriend in neck
According to the January 28, 2008, edition of the Colorado Springs Gazette (p. A4) Karen Thompson, 32, stabbed her boyfriend, Ricky Nelson, 29, once in the neck during a domestic fight. The assault occurred at approximately 9:30 PM on Saturday, January 26 th at 1322 East Fillmore Street in Colorado Springs.
Mr. Nelson was reported in stable condition Sunday evening at Penrose Hospital.
Ms. Thompson was arrested on charges of firs-degree felony assault.
---
Woman repeatedly stabs man while living with him in Denver and Loveland
February 27, 2008 — According to the Denver Post (p. 3B), 20-year-old Jennifer Stroth and a 72-year-old man were "intimate friends" until romance turned to violence, quoting Denver District Attorney's spokeswoman Lynn Kimbrough.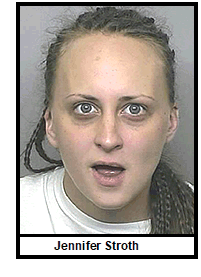 Jennifer Stroth was arrested on a domestic violence charge in Loveland on February 17 th , after the couple had moved from Denver.
The ensuing investigation turned up evidence of two earlier knife attacks on her paramour when they shared a home in the 4900 block of Raleigh Street in Denver, Kimbrough said. Stroth is accused of stabbing the man on February 1 and February 16, as well as the one February 17 th for which she was arrested.
The man sustained serious injuries, according to prosecutors. He was not identified by prosecutors because he is a victim of domestic violence.
Ms. Stroth remains in the Larimer County Jail, but will be charged in Denver with felony counts of first-degree assault against an at-risk victim, two counts of second-degree assault against an at-risk victim and menacing.
According to court records, Jennifer Stroth has been arrested numerous times on drug, theft and assault charges since turning 18 in June 2005, including an arrest by Aurora police on assault, battery and damaging private property charges stemming from a prior domestic violence case in November 2006.
---
Golden woman runs down boyfriend and his dog
March 2, 2008 — According to the Denver Post (p. 2B) Golden police arrested a woman accused of intentionally hitting a man and his dog with her car Thursday night.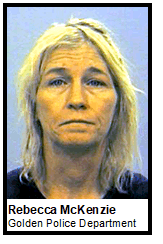 The crash occurred in the area of South Golden Road and Utah Street. Police found Rebecca McKenzie at a nearby apartment complex after preliminary investigations identified her as a suspect.
Ms. McKenzie was booked into Jefferson County Jail on charges of attempted homicide, vehicular assault, and cruelty to an animal.
The victim, James Anzalone, is a 54-year-old Golden resident. He was transported to the hospital after the Thursday incident where he was treated and released. The dog was transported to an emergency veterinary clinic for treatment.
Police would not release information on why they believe the actions to be intentional, citing that the investigation is ongoing. However McKenzie and the victim did know each other, said Sgt. Ryan Custer of the Golden Police Department. "They are boyfriend and girlfriend," said Ryan. "Or, at least they were."
Rebecca McKenzie gets 14 years for running down boyfriend and his dog
According to the Jefferson County district attorney's office, as reported in the March 26, 2009, Denver Post Rebecca McKenzie was sentenced to 14 years in prison for running down her boyfriend and his dog. She pled guilty to second-degree assault, cruelty to animals and committing a violent crime.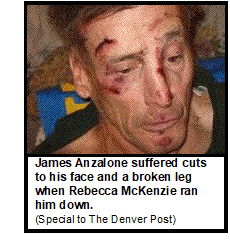 Investigators said Ms. McKenzie, 47, waited outside the Golden apartment where James Anzalone lived. When he came out to walk his dog, Zach, a chow-retriever mix, she ran them down in her sport utility vehicle, injuring them both.
Anzalone suffered a broken leg and cuts and scrapes to his head and face. The dog had a crushed paw.
Anzalone told police that he had earlier asked Ms. McKenzie to leave his apartment after he had broken off their courtship because of her heavy drinking.
A witness and a surveillance camera attested that Ms. McKenzie's SUV ran down Anzalone and his dog.
---
Colorado Springs real estate agent arrested in $17,000 vandalism
March 26, 2008 — During the early morning hours then unknown suspects committed extensive damage at 9992 Pinedale Drive, a residence in the Pine Creek subdivision, while the residents were on vacation. Windows and outside lights were broken, oil was splashed all over the concrete, and vulgar language and symbols were spray-painted on the house, windows, fences and driveway area. On the victims' garage door was a gang-style logo. The same logo was seen in some less severe damage which occurred earlier in the month at the Pine Creek Golf Course.
Racist rumors falsely target local teenager and his family
Initially there was no valid suspect information. Rumors spread throughout the neighborhood and among students at Challenger Middle School that a neighbor of the victims was responsible for the damage. On April 3 rd , the boy and his family, who are black, were confronted by some residents of the Pine Creek area, and the boy was accused of doing the damage. The entire family was told they are bad and that they will pay for what the boy had done. Someone sent out an email warning people of Pine Creek about 14-year-old Brandon Johnson, calling him "bad news" and warning the neighborhood to lock their doors and be safe. The racially-motivated email advised everyone to watch out for this boy because it claimed he is involved in gang activity, drug dealing, and vandalism. Its author, Mary Silva, wife of Pine Creek Golf Course manager and president Elcio Silva, attached an outdated photo of the Johnson family (pulled off the Universal Kempo Karate Web site that the Johnson's own) and identified Brandon as the boy in the picture who is actually the Johnson's older son, Andre.
The next day the family went to the Colorado Springs police department offering their cooperation and asking what could be done about the situation.
Realtor wrath
May 2, 2008 — Eventually the investigation revealed the accused boy was not in any way involved in these incidents. As the investigation progressed, four juvenile suspects were identified, and have now been charged. Further investigation resulted in the identification of an adult suspect, Sandra Haddad, age 49, who had urged the juvenile suspects to commit the crime on Pinedale and supplied them with the spray-paint and oil.
On May 2, 2008, Sandra Haddad turned herself in at the county jail where she was booked for Contributing to the Delinquency of a Minor and Conspiracy, both Class 4 felonies (Table 96). She was released after posting a $3,000 bond.
According to the Colorado Springs Gazette Ms. Haddad, a real estate agent in Colorado Springs sent four children — two of them family friends — to exact her revenge on a client who passed on a lucrative contract nearly three years ago, police said.
Sandra Haddad, 49, coowner of Colorado New Home Concepts, is accused of supplying four 13-year-old boys with the vegetable oil and spray paint they used to cause $17,000 in damage to a home in Pine Creek, an upscale subdivision in northwest Colorado Springs.
The March 23 rd incident targeted Greg and Lenae Thomas, who declined to sign a buyer's agency contract with Ms. Haddad in 2005. They had settled on a home worth $640,000 but reconsidered and went with a different real estate agent because of concerns about Haddad's terms.
"She was angry she lost the commission," said Colorado Springs police Sgt. Dale Fox.
According to Greg Thomas, Haddad would have collected $27,000, or 4% of the selling price. Investigators told Thomas that Haddad took the boys to Wal-Mart on Razorback Road to buy their supplies on the night of the vandalism.
Haddad has been practicing real estate for more than 20 years. If convicted, she could face the loss of her license, said Marcia Waters, director of investigations and compliance for the Colorado Division of Real Estate.
Greg Thomas said his family received threatening phone messages from Haddad for a week after they decided to go with a different real estate agent.
They had all but forgotten about her when police informed them of their suspicions in the vandalism case.
The Thomases were on a skiing trip when police say the boys vandalized the home in the 9900 block of Pinedale Drive — smashing windows and outside lights, staining the driveway with vegetable oil and spray painting vulgar language and images on the walls and fence. An apparent gang symbol was painted on their garage wall.
The boys were charged as juveniles with felony criminal mischief this week, Fox said. Police do not identify juvenile suspects.
Ms. Haddad was known as Auntie Sandy' to two of them, the sons of family friends, Sgt. Fox said. He said their parents were shocked by the allegations and cooperated with police after being presented with the evidence.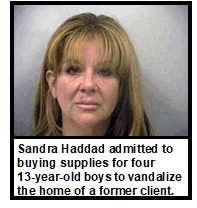 None of the children received money or favors in exchange for carrying out the vandalism, Fox said. Police think that Haddad drew on a close relationship with the two boys in persuading the four to help, he said.
Thomas, a Navy captain who works at Peterson Air Force Base, said his family was still living in Pennsylvania when they contacted Ms. Haddad in 2004 for help finding a home in Colorado Springs. Their business relationship soured eight months later when Ms. Haddad sent them a contract with language that other real estate agents called into question, he said.
Thomas and his wife got a restraining order against Haddad on April 30 th , saying they are afraid of what she is capable of given the seriousness of the allegations.
"If she is capable of doing this to our house three years later, then what else is she capable of?" he said. "I felt much better about this when I thought it was just kids."
Haddad gets probation in plea bargain
According to the Colorado Springs Gazette on October 9, 2008, Sandra Haddad, 49, pled guilty to four felony counts of contributing to the delinquency of a minor and a misdemeanor count of criminal mischief. The pleas were part of an agreement with prosecutors, mediated before District Judge Ronald Crowder.
Ms. Haddad was sentenced to four years supervised probation, ordered her to perform 200 hours of community service removing graffiti, take anger management classes and serve 15 days of home detention. She paid $17,075 in restitution as part of the agreement.
She got deferred judgments on the four felonies, which means if she successfully completes probation, the convictions will be wiped from her record.
---
Colorado Springs police arrest woman after she stabs boyfriend in argument over cigarettes
May 2, 2008 — Colorado Springs police officers from the Stetson Hills division were dispatched to 3120 Escapardo Court at 6:40 PM to investigate a stabbing.
Upon arrival the officers made contact with 47-year-old Kevin Levulis and 43-year-old Mary Anne Dault. Both Ms. Dault and Levulis live at the address; they were both involved in a domestic disturbance that turned physical. Mr. Levulis received a significant facial laceration; as he was allegedly stabbed by Ms. Dault with a glass after an argument over cigarettes. Ms. Dault was arrested for first-degree assault.
---
Aurora cop shoots armed woman after she violates restraining order
© 2008 by Kirk Mitchell, The Denver Post
May 23, 2008 — Melinda Espinoza remained in custody Thursday night, a day after she was shot in the leg by an Aurora police officer.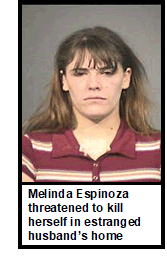 Ms Espinoza, 24, was threatening to kill herself with a gun in the home of her estranged husband in the 2200 block of South Waco Court just before 10 PM Wednesday, said Shannon Lucy, Aurora police spokeswoman.
Espinoza met police officers outside the home and pulled out a gun, Lucy said.
Police say she also pointed the gun in the direction of officers. An officer, who has not been identified, then shot the woman in the leg.
Ms. Espinoza was taken to a local hospital, where she was treated for the wound.
She was arrested for investigation of violating a restraining order and a traffic warrant. Later in the day, after further investigation, police said she also would face a charge of felony menacing.
She was in custody Thursday night at the Aurora jail.
The officer who fired the shot has been placed on paid administrative leave pending the outcome of an investigation.
Kirk Mitchell: 303-954-1206 or kmitchell@denverpost.com
---
Jefferson County sheriff deputy poisoned with fox glove by his wife
Abstracted from various news reports
When Jefferson County Sheriffs Deputy Jonathan Allen, 38, woke up the morning of June 5, 2008, at his Highland Ranch home still angry with his wife Lisa, 42, from a fight the night before, he had no idea that it could have been his last day alive.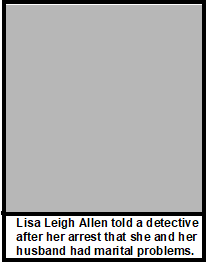 In a later interview Deputy Allen said his wife Lisa was depressed, had threatened suicide and was spending a lot of time with a mutual male friend, still he says "I was committed and thought we were going to grow old together." That is, until he realized his wife was planning his untimely death. "It probably took several months to even comprehend the woman I love had tried to kill me," Allen says.
He says he had been worried about his wife, especially after he learned she was researching poisonous plants on the internet, "plants like Red Caster bean and Fox Glove." At the time he thought she might have been planning to use those plants to take her own life.
But he pushed those thoughts aside the night he says Lisa called him while on duty and told him she had made him a special "romantic" dinner.
He came home to a "steaming hot plate," which he says was rare on a work night. He sat at the table of his Highlands Ranch home, ready to eat his dinner salad, when the couple's 4-year-old daughter jumped onto his lap. She grabbed an olive from the salad plate, but her mother quickly snatched it away and put the little girl to bed. Jonathan Allen said he noticed the strange-looking, serrated leaves in his salad. "So I eat my spaghetti and I'm eating the salad and it tastes bitter, and I'm still not alarmed I don't think a thing."
But he became alarmed when he says he went out to the back patio and noticed two new "Fox Glove" plants with leaves missing. Deputy Allen says he compared the plant to two leaves he left in his salad bowl and realized he had eaten a potentially deadly poison.
"I didn't know if I was going to die but I can't even tell you how to comprehend what's going through your mind at that point." He then was doubled over with stomach cramps and his heart was racing and called for an ambulance. A hospital toxicology test confirmed he had been poisoned by Fox Glove, which contains a toxic substance called digitalis. An emergency room doctor said the poison could have killed Jonathan Allen.
Foxglove ingestion can cause a person's heart rate to slow, and even in small doses, kill a human. The doctor who treated Deputy Allen told investigators that "digitalis does not show up on the lab tests by accident," a probable cause statement says.
The following day, Deputy Allen tearfully told a Douglas County Sheriff's Office deputy that he had found Internet searches for plants that can be toxic to humans and animals, but had not mentioned anything to his wife about the discovery.
Two potted plants recovered from the couple's back deck after the incident still had the tags attached: foxglove. Lisa Allen later admitted to investigators to conducting the Internet search on June 5, but said she was buying a plant for her sister and wanted to make sure it was not poisonous.
Lisa Allen was initially charged with attempted first-degree murder and assault with the intent to cause serious bodily injury. But in April 2010 Mrs. Allen reached a plea agreement with prosecutors in the 18 th Judicial District and pled guilty to felony second-degree assault.
Douglas County prosecutor Bryan Garrett said Lisa Leigh Allen's actions show she had "malice in her heart" and that her husband could have suffered a slow "torturous death" for eating the lethal foxglove in his dinner salad. On May 14, 2010, Mrs. Allen was sentenced to 4 1/2 years in prison.
---
Denver wife accused of telling airline her husband had bomb
June 25, 2008 — The FBI arrested a Denver woman for calling Southwest Airlines and warning them that her husband — who was aboard a flight from Denver to Las Vegas — planned to detonate a bomb.
Terrice Gay Hutchinson, 53, made the bomb threat to Southwest Airlines on April 17, 2008, according to the U.S. attorney's office.
"She was upset that he was going to Las Vegas, and that is the way she chose to stop him," said Jeff Dorschner, spokesman for the U.S. attorney's office in Colorado. "Obviously it didn't work."
Mrs. Hutchinson was convicted and faced up to five years in federal prison and up to a $250,000 fine for providing false information and threats concerning aviation transportation. Instead, consistent with the lighter sentences commonly given women, on January 15, 2009, she was given three years supervised probation and ordered not to drink alcohol during her probationary period.
---
Colorado Springs woman kicks cop who tried to stop fight with her boyfriend
September 23, 2008 — A woman battling with her boyfriend overnight kicked cops who arrived to break up the fight, Colorado Springs Police said.
Police were called to the Castlewood Apartments in the 4200 block of Galley Road just before 10 PM after neighbors reported the couple yelling. Officers arrived to find 38-year-old Angela Atterberry squared off with a 29-year-old man, police said.
"While Officers were attempting to defuse the verbal disturbance, the 38-year-old female became verbally abusive and uncooperative with officers," police said in a report.
Ms. Atterberry apparently didn't want the fight to end and kept going after the 29 year-old as police tried to hold the 5-foot-10, 160-pound woman back.
In the melee, Angela Atterberry tried to kick several cops and connected once. The officer wasn't hurt, but the blow was enough to get Ms. Atterberry arrested for second-degree assault.
She was being held at the El Paso County lockup this morning in lieu of a $10,000 bond, jail records show.
---
Woman shoots her husband in Arapahoe County claiming he begged her to do it
Abstracted from story by Joey Bunc, Denver Post
A woman who shot her husband in the knee Wednesday night said he was asking for it.
She goes free, he is arrested.
October 16, 2008 — When Brooke Quinn, 35, reported the shooting to Arapahoe County dispatchers at about 11 p.m. Wednesday, she said her husband was drunk, violent and when she took control of the gun he begged her to shoot him.
So she did.
And, given the circumstances, she won't face charges, the district attorney's office and sheriff's department concluded today. [It is impossible to believe that under the same circumstances a man would not have been arrested and charged with attempted murder.]
After she reported the shooting, Brooke Quinn put the gun on the front porch of the home in the 7500 block of East Costilla Avenue, because she said, her husband, Damian Quinn, 34, was begging her to "finish it," according to the sheriff's office.
As deputies spoke with her in the front yard of the residence, her husband tried to retrieve his .40 caliber semi-automatic pistol from the front step.
He was then uncooperative with officers and was taken into custody until he was taken to the hospital.
Brooke Quinn told officers she had been forced into the bathroom where her husband held a gun to her head. While in the bathroom, he also put the gun to his own head, she said.
Damien Quinn is being held in the Arapahoe County Detention Facility, charged with felony menacing, third-degree assault and false imprisonment. [And she goes free!]
---
Woman held under suspicion of trying to hire hit man in Greeley
November 2, 2008 — According to the Denver Post (p. 2B) Greeley police say a 21-year-old woman wanted to hire a hit man to kill one of her boyfriend's parents because they disapproved of her dating their son.
Twenty-one-year-old Alana Noke of Greeley is being held under $250,000 bail in Weld County on suspicion of criminal solicitation to commit first-degree murder.
Police spokesman Sgt. Joe Tymkowych says Ms. Noke was arrested after an undercover police officer posed as the killer-for-hire. Police say they were alerted about Noke's intentions by one of her friends.
---
Fountain woman first has husband arrested for domestic violence then sues sheriff when he dies of a heart attack in jail
Abstracted from reports in the Colorado Springs Gazette
November 9, 2008 — Bruce Raymond Howard, 67, was arrested Sunday by the Fountain Police Department and booked into the El Paso County Criminal Justice Center on charges of third-degree assault, harassment, and obstruction of telephone/telegraph service according to the El Paso County Sheriff's Office. Fountain police have refused to release the police report but the charges were initiated by his wife, Georgeanna.
While awaiting a court hearing on Monday Howard suffered a seizure and collapsed on a concrete bench in the jail holding cell known as the "fish bowl" in the county courthouse about 12:40 PM. He was pronounced dead at a local hospital at 1:33 PM. The coroner's report said Howard died of cardiac arrhythmia possibly aggravated by chronic alcoholism. He was also reported by his wife to have been "extremely ill" the previous weekend.
After Howard collapsed several inmates tried in vain to get deputies' attention by pushing the distress button, waving at a video camera, yelling, and banging on the walls.
A deputy who heard the banging asked another deputy to check the video monitor. That deputy reported seeing nothing unusual. An inmate performed CPR after Howard collapsed but his heart had stopped by the time officials arrived,
Investigators found the alarms in the "fish bowl" were not working that day. An electrical contractor reported the malfunction might have been the result of "loose or old wires from the original construction" and the courthouse was undergoing asbestos abatement and other construction work at the time.
Chronology of events from sheriff's reports
A partial chronology of events of November 10, 2008 leading up to the death of inmate Bruce Raymond Howard as described by investigative reports of the El Paso County Sheriff's Office.
8:24 AM . — While Howard signs a document, a deputy notices that the inmate is shaking, sweating and his skin is reddish. The deputy asks Howard if he is OK. Howard replies he's OK.
9 AM — Howard reports to a deputy that he saw a giant bug crawling on an inmate in the bed next to him. Again, a deputy asks Howard if he is OK and the inmate replies that he is.
10:20 AM — A nurse with the medication cart recommends that Howard be transferred to the medical unit.
10:40 AM — Another nurse calls to ask why Howard is in the medical unit. The deputy relates the inmate's hallucinations and his chemical dependency status. She agreed to transfer him to the medical unit.
12:15 PM — A nurse treats Howard for a cut to his hand that he sustained while getting into the transport van prior to begin taken to the courthouse. She reports that he was trembling and sweaty, but not short of breath. She said Howard described himself as a drinker — usually orange juice and whiskey.
12:39 PM — Deputy hears banging on the walls and people calling for help from the "fish tank" holding cell. He asks the front desk deputy to check video cameras. She reports seeing nothing unusual.
12:40 PM — Deputy enters the fish tank, finds Howard slumped over and issues a "code blue" alert. Several deputies respond.
12:42 PM — Deputy in fish tank requests an ambulance, noting that Howard is non-responsive and without a pulse.
12:47 PM — Firefighters arrive on scene
1:40 PM — Sheriff's investigators tests emergency button by pushing it for durations of one, two and three seconds. "The alarm did not activate," the report states.
After having him arrested Howard's wife files suit against the sheriff
The Colorado Springs Gazette reported that on November 10, 2010, Bruce Howard's wife, Georgeanna, and her two daughters filed a wrongful death lawsuit in U.S. District Court in Denver naming El Paso County, the Sheriff's Office, a corrections health care company, several medical personnel and contractors that had been working on a courthouse asbestos abatement program. Sheriff's deputies transport prisoners to and from court appearances and guard them at the courthouse.
She is reported to be seeking $150,000 for "negligence and carelessness," $150,000 for loss of companionship, and an unnamed amount for "extreme and outrageous conduct" by sheriff's employees.
A rational individual might think that the stress of Howard's wife having him arrested and jailed might well be a contributing, if not the primary cause of a 67-year old man with a drinking problem dying from a heart attack. In any case, heart attacks are a leading cause of natural deaths in the United States and not unusual in 67-year-old men.
Anyone who has been in a jail would think getting the guards attention and response in 15 minutes isn't an overly long time period, alarm or no alarm. Howard was not on suicide watch and sheriff deputies are not nursemaids. In any event he received CPR almost immediately after collapsing.
It is particularly difficult to sympathize with Georgeanna's claim for loss of companionship. If she misses him that much it is reasonable to ask why she had him arrested in the first place? They certainly weren't newlyweds and this undoubtedly was not the first drunken row in the marriage.
---
Man answers woman's ad on Craigslist, is beaten, kidnapped, and left for dead in a snowdrift
Abstracted from news reports by CBS4Denver and the Denver Post
On December 10, 2008, a snowplow driver with the Colorado Department of Transportation found a 39-year-old man lying on Colorado Highway 72 "beaten within inches of his life."
The Gilpin County Sheriff's Office stated he was dumped in a snow drift on Highway 72, west of Coal Creek Canyon.
Chris Brewer, a CDOT snowplow driver, saw the victim near mile marker 22 along the highway walking in the middle of the road wearing only his long underwear. The victim said several cars passed him, ignoring his signals for help.
"His hands I noticed, what was more noticeable to me was all the bumps on his head," Brewer said. "He had big rising bumps on the top of his head like he'd been hit with something pretty hard." Brewer sheltered the victim in his plow cab and called police.
The victim told investigators he contacted Michelle Huddleston, 21, through an ad posted on Craigslist.
On December 10, 2008, the victim met Ms. Huddleston at her mobile home in Thornton, where he was ambushed by her, Christopher Preston, and Joseph Jackson.
The victim was beaten, duct-taped, robbed, thrown into a van and driven to Coal Creek Canyon, where he was dumped in a snowbank in 10° F weather.
The victim remembered the license plate of a van used in the crime. The plate number led investigators to the three suspects, prosecutors said.
The Colorado Bureau of Investigation stated that Michelle Huddleston has a lengthy criminal record that includes felony theft, identity theft, forgery, and prostitution. She pled guilty to her part in the beating and kidnapping and was sentenced to 32 years in prison.
Christopher Preston, 34, pled guilty to kidnapping and was sentenced to 40 years in prison.
On April 2, 2010, after a five-day jury trial, Joseph Jackson, 31, was convicted of kidnapping, assault and aggravated robbery. He was then sentenced to 68 years in prison by Adams County District Court Judge Chris Melonakis.
---
| EJF Home | Join the EJF | Comments? | Get EJF newsletter | Newsletters |
| DV Home | Abstract | Contents | Authors and Site Map | Tables | Index | Bibliography |
| Chapter 12 — Stories Of Violent Women And Abused Men In Colorado |
| Next — Violent Colorado women-Year 2009 |
| Back — Violent Colorado women-Year 2007 |
---
This site is supported and maintained by the Equal Justice Foundation.